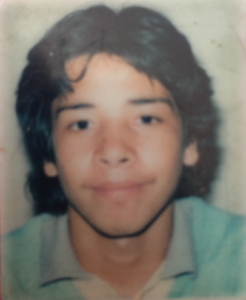 El Guango was a kid born to immigrant parents and raised in East Los Angeles. He was known as El Guango or "baggy" because he wore "pass me down" clothes that were always too loose. For most of his childhood, El Guango and family lived in low-income housing neighborhoods often referred to as "El Barrio".
El Guango's family were deported twice. The second time, El Guango was 6 years old and his mother took him and a sibling to live in Mexico for 3 years, while his father stayed behind with another sibling pending their immigration ruling for permission to stay in the US. In Mexico, El Guango felt out of place and was often disciplined with physical punishment at the school he attended. He started to resent school and with it came more harsh discipline from teachers and administrators.
When El Guango returned from Mexico, his family continued living in poverty and that created a lot of stress and anxiety on the family, and El Guango. A year later, El Guango's family grew from five to eight. There were now six children (four boys ages 15, 11, 10, and 1, and 3-month-old twin girls). El Guango was 10 years old, when his mother suffered a massive heart attack and was in a coma. El Guango recalls discovering his mother soon after her heart attack as she lay unresponsive in her bed. Early life experiences of stress and adverse social and economic conditions could have contributed to El Guango's 34-year-old mother's heart attack.
A week later, his father was severely beaten by gang members during a robbery and landing him at the same hospital where El Guango's mother remained in a coma from her heart attack. Witnessing the vicious beating of his father while still processing the possibility that he would never again see his mother compounded by guilt weigh heavily on him. With no adult or supervision at home, El Guango started skipping school. School was simply not a priority, survival and caring for his 1-year-old brother and 3-month-old twin sisters was.
With his mother out of the coma, but still in and out of the hospital and his father recovering from his injuries and trauma, El Guango became very angry about his living situation and started acting out fighting and engaging in reckless behavior to deal with his anger. He struggled to read and write, and saw very little value in school. Lack of interest in school and dealing with severe bouts of depression, his outlook did not look promising.
By age 12, El Guango was already in therapy for his disruptive behavior and depression. In middle school he continued to struggle and was placed on a vocational education track. In the 1980s, vocational education was used to track low-income students deemed "non-college material." El Guango was placed in mostly traditional shop courses (e.g., woodshop, drafting, plastics, metal etc.). In the couple of academic courses, he was reminded by his teachers numerous times that he would not get far in school and should settle for low-hanging fruit fast-food jobs.
The stigma and shame of being labeled "crazy" because of being in therapy led to more depression and isolation during his early years in high school. El Guango was seen as an outcast or a loner. As a result, he felt ugly inside and embarrassed of his background and observable ethnic characteristics. El Guango had low self-esteem, zero confidence, and no joy in school. Making it through four years of high school and overcoming so many academic and personal deficiencies seemed too overwhelming. Again, he was regarded as a remedial student with learning difficulties and when a teacher looked him in the eye and said, "you're not college material, quit now and find a job at a fast-food restaurant," was the last straw for El Guango. The idea of being invisible to the world became more and more gratifying.
Click here to find out where El Guango is today